Go Carbon Neutral!

In September 2020, the 75th United Nations General Assembly once again brought "carbon neutrality" to the forefront. Facing the most serious problem in 21 century —— global warming, HealthyPhoton continues to provide high-end instruments for ecological scientific research and environmental management.
About the Carbon Neutrality
"Carbon neutral" was selected as the word of the year 2006, and to be included in the 2007 edition of the New Oxford American dictionary, which meant reducing the carbon dioxide (CO2) emissions through the use of clean energy, afforestation, and other low carbon ways to offset the CO2 or other greenhouse gases (GHG) emissions. In the new stage of ecological civilization construction, the concept of low carbon has been pushed forward. This is why GHG emission monitoring is indispensable.
About "Carbon Emissions"

Carbon emission mainly refers to CO2 Other major greenhouse gases include methane (CH4), nitrous oxide (N2O), ozone (O3), and fluoride. These greenhouse gases are mainly emitted into the atmosphere through human activities and form an insulating layer on the periphery of the earth. Excessive greenhouse gases make the earth's energy unable to be released, leading to global warming and serious consequences such as sea-level rise, climate abnormalities, and land desertification.
About HealthyPhoton
HealthyPhoton is committed to independent research and development of high-end instruments for ecological environment monitoring and continues to pay attention to the changing atmospheric environment. We have developed several instruments for environmental monitoring. Meanwhile, we are also exploring the research and development of new instruments that will provide effective data support for trace gas monitoring in various fields.
We are currently working on the analyzers for atmospheric methane and nitrous oxide. The new HT-8600 and HT-8500 products inherit our experiences accumulated with the HT-8700 NH3 analyzer. They are both open-path analyzers based on the Quantum Cascade Laser Absorption Spectroscopy (QCLAS) technology. Similar to HT-8700, HT-8600 and HT-8500 ensure high sensitivity, fast response, and low power consumption, which make them suitable for CH4 and N2O flux measurement based on the eddy covariance technique.
Specific technical indicators are listed below.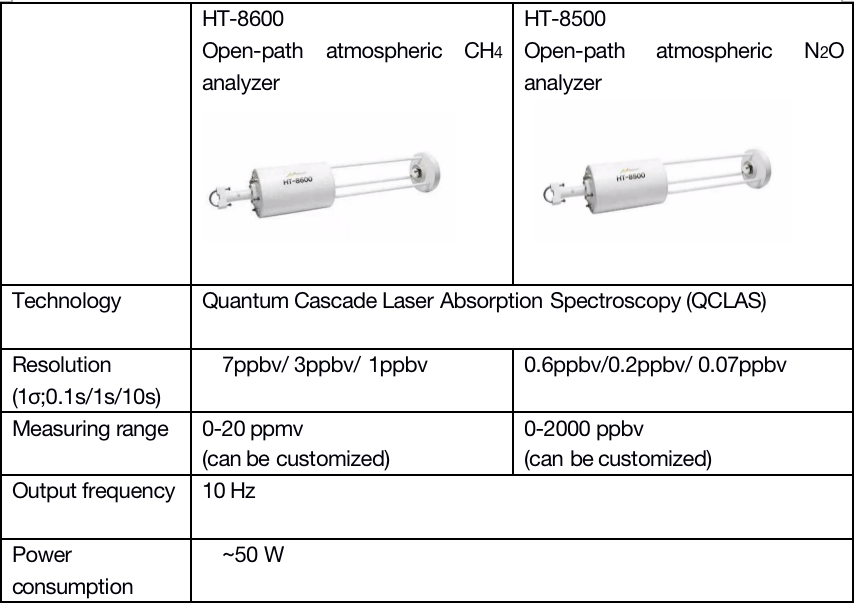 Related products:
HT-1800 Open-path Laser Hygrometer

The new HT1800 hygrometer has an open-path configuration that directly measures the moisture content of the atmosphere, ensuring high accuracy and high speed of measurement. It fully satisfies the need in the eddy covariance method. It is indispensable in eddy covariance systems for evapotranspiration (ET) analysis and flux corrections of other gas species.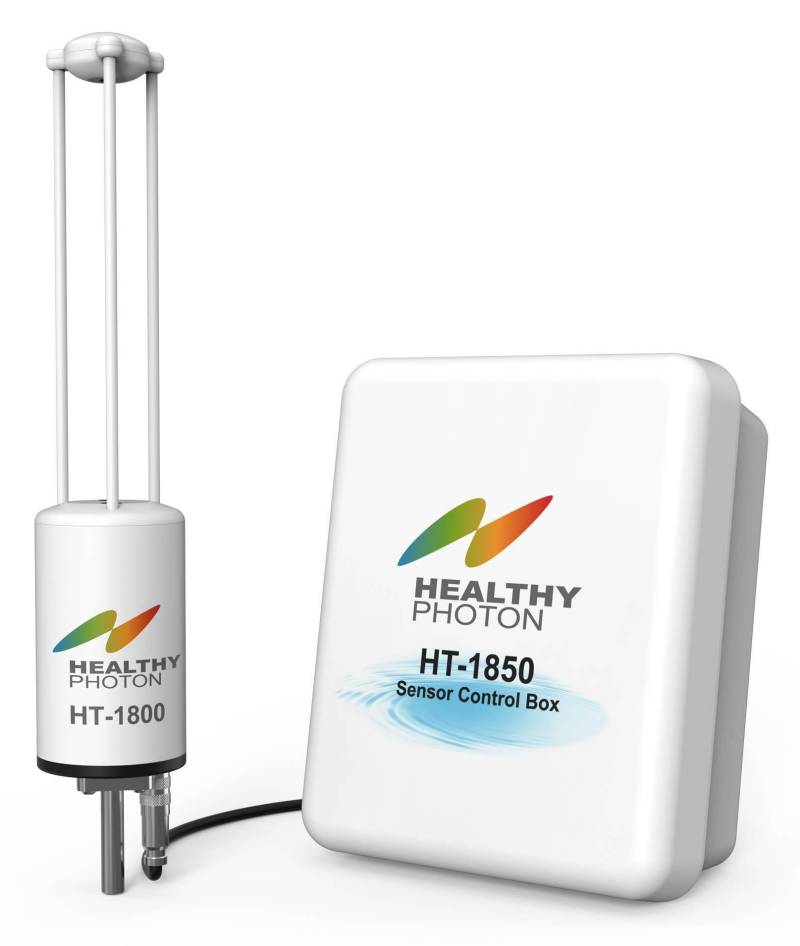 HPE-1900 Portable Ozone Analyzer
The HPE-1900 can be widely used in air quality monitoring stations for the environment and pollution management. It is also useful in meteorology, disinfection, food safety check, and other fields that need ozone concentration analysis.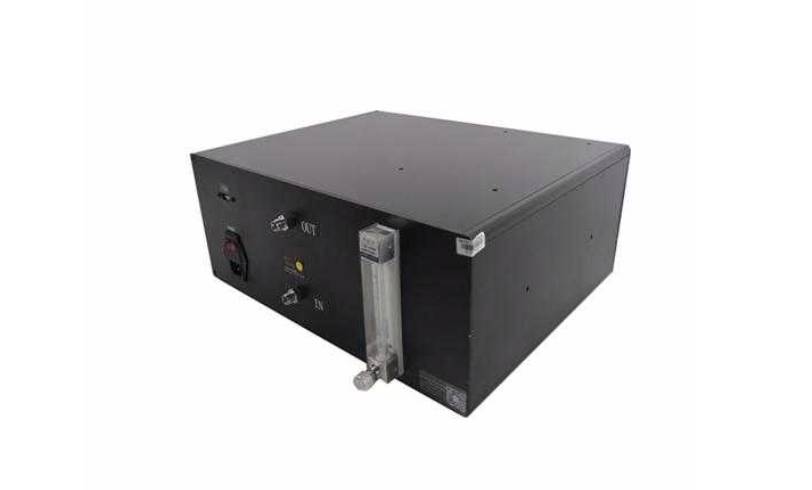 HT8700™ Open-path NH3 Analyzer
HT8700 is an open-path analyzer providing in-situ measurements of atmospheric ammonia concentrations with high speed, low power consumption, and ultra-high sensitivity. The superior performances make it suitable for on-site deployment in various environments, including urban, rural, remote fields, and even mobile monitoring platforms.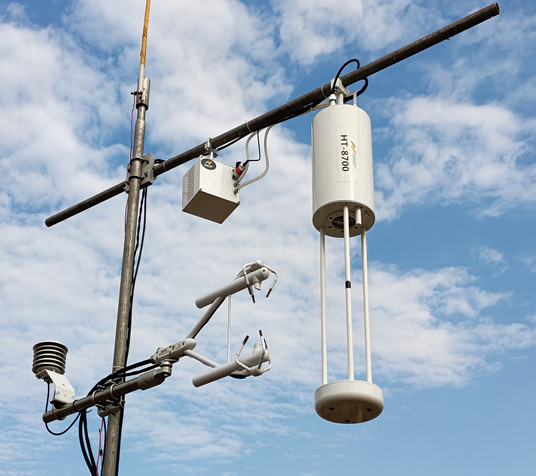 BeebirdTM provides a QCL-based cost-effective OEM solution for ultra-sensitive online monitoring for various gas species. It enables real-time measurements of CO, CO2, NO, NO2, NH3, O2, N2O, and other process and emission gases, which is critical for optimizing combustion, denitrification processes, and environmental protection assessment.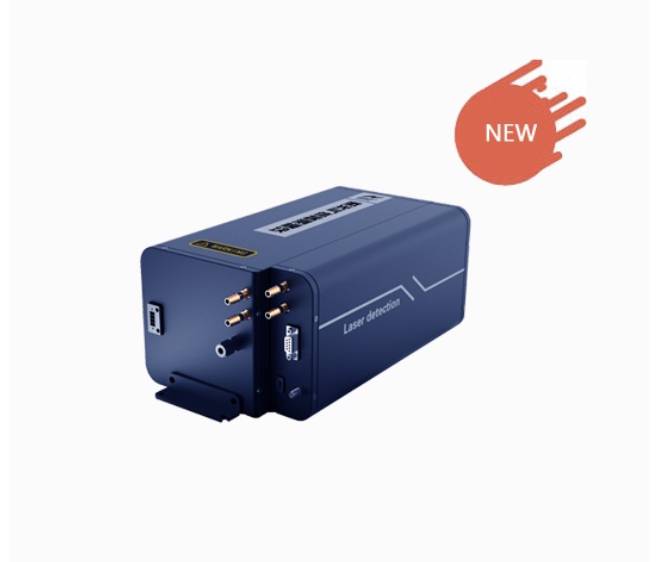 Conclusion
In response to the global wave of carbon neutrality, HealthyPhoton is committed to explore and develop more advanced, accurate, and convenient solutions for monitoring greenhouse gases and atmospheric pollution components. HealthyPhoton, always on the way!
Related Links
1.Eddy Covariance Method for Evapotranspiration Measurements
2.HealthyPhoton participated in ambient ammonia testing and monitoring at CNEMC
3.On-Site Mobile NH3 Measurements at Livestock Farm
4.Field Deployment of the HT8700 for Paddy Field Ammonia Emission Flux Measurements