The ammonia concentration of 2~3 ppmv in flue gas is a great challenge for the accurate estimation of ammonia slip and DeNOx process in most coal-fired power plants. Most of the existing near-IR laser spectroscopy based monitors cannot achieve reliable accuracy under harsh field conditions at the coal-fire SCR outlet. The traditional in-situ cross-duct sensor has an issue that the laser beam cannot penetrate due to high dust. In the meanwhile, vibration, expansion, and contraction of the duct affect the accuracy and the stability of the laser beam, leading to loss of signal, which increases maintenance costs.
Recently, some products have used extractive sampling+near-IR diode laser+multi-pass absorption gas cell technology to make use of a long optical path to compensate for the weak absorption of near-IR spectral lines. However, the long-pathlength absorption cells are not suitable for the severe working conditions of high dust, high temperature and high ammonium bisulfate salt (ABS). After a long-term operation, the cleaning and beam re-alignment of the optical cell greatly increase the difficulty and maintenance cost.
Customer cases
• Huadian Electric Power Research Institute
• Hebei Province Electric Power Research Institute
• Hebi Ecological and Environmental Monitoring Center
Advantages
• QCL+TDLAS technology has a measuring range of 0-20ppmv and accuracy up to 0.01ppmv;
• It does not need the long-pathlength multi-pass absorption gas cell, thereby reducing the difficulty of maintenance and extending the maintenance period;
• The direct high-temperature extractive sampling method eliminates walk-off beam challenges faced by in-situ cross-duct laser-based sensors;
• The sampling pipeline length is less than 3 meters, which reduces the signal delay and improves the real-time feedback for DeNOx optimization;
• The sample flow rate can be as low as 250 mL/min, which can reduce probe wear and reduce maintenance costs;
• Mid-IR laser spectroscopy provides an optional simultaneous measurement of NH3 and NOx with a single probe. A single analyzer combined with the grid measuring method can assess the NH3-NOx molar ratio distribution.

Parameters
Technology

QCLAS

Specifications

Target species

NH3

Measuring range

0 - 20/50/100/200 ppm

Detection limit

0.1 ppm

Precision

±0.1 ppm (1s integration)

±0.01 ppm (100s integration)

Response time

15 s

Linear error

±1%F.S.

Zero/span drift

±2%F.S.

I/O

Analog output

1 4-20mA output (max. load 750Ω)

Digital output

RS232/RS485

Wireless

4G or WIFI

Data storage

USB port

Sampling

Gas temperature

Ambient to 450°C

Method

Hot and wet

Flow rate

0.25-5 L/min

Heat tracing

60°C - 230°C

Dust requirements

Filtration accuracy < 5um

Work

condition

Power

AC 220V 50Hz (<1.0 kW)

Work temperature

-20°C ~ 55°C

Adaptability

IP54

Dimension &
weight

Analyzer

486×170×340 mm (L×W×H) 〜10 kg
Field Experiment Result
The product has been field-tested in several power plants across China. The product's reliability, stability, technological advancement, and portability features have been well recognized by users.
Standard gas response & repeatabiliy test:
Comparison & Test
We used a commercial near-infrared laser ammonia analyzer and LGM1600 to make a comparative test. The result shows LGM1600 has faster response time and more accurate measurements. The NIR analyzer has the response time about 85 seconds, and its measurement result has a significant deviation from the actual concentration (maximum 62/.5%). The response time of LGM1600 is about 30 seconds, and the maximum deviation is 1.7%.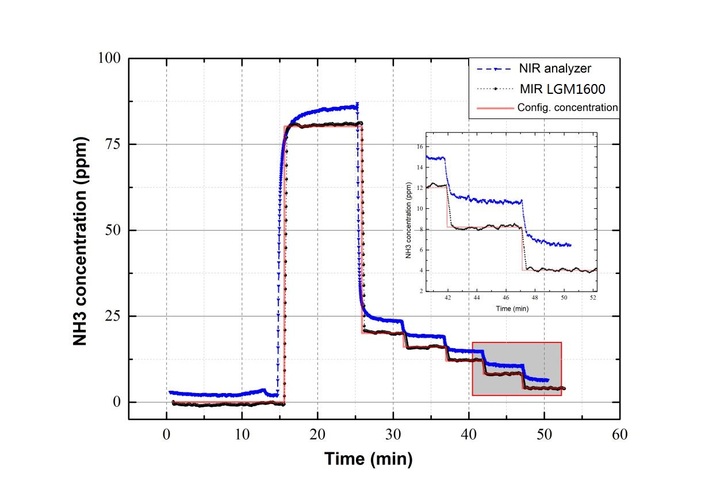 Sampling Accessories
LGM1600 is compatible with SmartlineTM or JPESTM portable hot-and-wet sample probe and heated line. Upon request, we can provide SmartlineTM or JPESTM accessories. Refer to SmartlineTM and JPESTM documentations for more details.

Docs
Applications